1932  Los Angeles Summer Olympics
0px;">
Info about the Games

Host City: Los Angeles, United States

Participants: 386 (332 men and 54 women) from 34 countries

Date Started: July 31, 1932

Youngest Participant: JPN Sumiko Watanabe (15 years, 247 days)

Date Finished: August 7, 1932

Oldest Participant: ITA Armando Poggioli (44 years, 46 days)

Events: 29

Most Medals (Athlete): 3 athletes with 3 medals

Most Medals (Country): USA United States (35 medals)

Venue

Memorial Coliseum

400 m

| | | | | | | | | | |
| --- | --- | --- | --- | --- | --- | --- | --- | --- | --- |
| Year | Dates | City | Venue | Countries | Athletes | Men | Women | Events | (Men/Women) |
| 1932 | Jul 31-Aug 7 | Los Angeles,USA | Memorial Coliseum | 34 | 386 | 332 | 54 | 29 | 23/6 |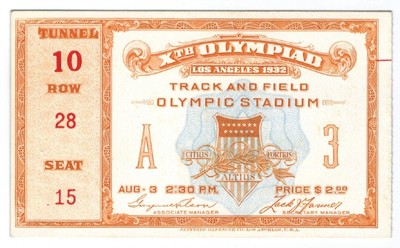 1932 Olympic Track and Field Athletics Ticket Used, August 3, 2:30PM 6
Overview
The 1932 Olympic track & field competition took place in the [Los Angeles Memorial Coliseum]. It had been built as a memorial to World War I veterans and opened in 1923, with the largest seating capacity of any Olympic Stadium to that date, with space for over 100,000 spectators. The 1932 Olympics were hampered by the long and difficult travel for many countries to get their teams to the West Coast of the United States, and coupled with the severe world-wide economic depression, caused attendance to be down somewhat from the last two Olympics. Average crowds for track & field still topped 60,000 people, with one day having 86,443 spectators. The heroine of the athletics competition was [Babe Didrikson], who won the 80 metre hurdles and javelin throw, and placed second in the high jump. She would later become a professional golfer and for a time was the top female golfer in the world. She is often considered the greatest all-around female athlete of all time. Women competed in six events in 1932, up one from Amsterdam, with the 80 metre hurdles and javelin throw added, but the 800 metres was off the program. On the men's side, [Eddie Tolan] won both sprint races, defeating his arch-rival [Ralph Metcalfe].
From Wikipedia, the free encyclopedia
At the 1932 Summer Olympics in Los Angeles, 29 athletics events were contested, 23 for men and 6 for women. It was the first time the 50 kilometres race walk appeared in the men's athletics at the Games. This was only the second time women's events in athletics were included in the Olympic Games program and the first time that women competed in the javelin throw at the Olympics. There was a total of 386 participants from 34 countries competing.
Paavo Nurmi from Finland was suspended one week before the Games by the IAAF for accepting payments in excess of his expenses for an exhibition tour (i.e. for "professionalism").
The athletics events took place at Los Angeles Olympic Stadium, now the Los Angeles Memorial Coliseum.
General view of Los Angeles Olympic Stadium on the opening day of the Games of the Xth Olympiad, while contenders from all nations take the Olympic Athlete's Oath.
Medal summary
Men
Women
Event
Gold
Silver
Bronze
100 metres
Eddie Tolan
United States
10.3
Ralph Metcalfe
United States
10.3
Arthur Jonath
Germany
10.4
200 metres
Eddie Tolan
United States
21.2
George Simpson
United States
21.4
Ralph Metcalfe
United States
21.5
400 metres
Bill Carr
United States
46.2
Ben Eastman
United States
46.4
Alex Wilson
Canada
47.4
800 metres
Tommy Hampson
Great Britain
1:49.8
Alex Wilson
Canada
1:49.9
Phil Edwards
Canada
1:51.5
1500 metres
Luigi Beccali
Italy
3:51.2
Jerry Cornes
Great Britain
3:52.6
Phil Edwards
Canada
3:52.8
5000 metres
Lauri Lehtinen
Finland
14:30.0
Ralph Hill
United States
14:30.0
Lauri Virtanen
Finland
14:44.0
10,000 metres
Janusz Kusociński
Poland
30:11.4
Volmari Iso-Hollo
Finland
30:12.6
Lauri Virtanen
Finland
30:35.0
110 metres hurdles
George Saling
United States
14.6
Percy Beard
United States
14.7
Donald Finlay
Great Britain
14.8
400 metres hurdles
Bob Tisdall
Ireland
51.8
Glenn Hardin
United States
51.9
Morgan Taylor
United States
52.0
3000 metres steeplechase
[1]
Volmari Iso-Hollo
Finland
10:33.4
Thomas Evenson
Great Britain
10:46.0
Joe McCluskey
United States
10:46.2
4 × 100 metres relay
United States

(USA)


Bob Kiesel
Hector Dyer
Emmett Toppino
Frank Wykoff
40.0
Germany

(GER)


Friedrich Hendrix
Erich Borchmeyer
Arthur Jonath
Helmut Körnig
40.9
Italy

(ITA)


Giuseppe Castelli
Gabriele Salviati
Ruggero Maregatti
Edgardo Toetti
41.2
4 × 400 metres relay
United States

(USA)


Ivan Fuqua
Edgar Ablowich
Karl Warner
Bill Carr
3:08.2
Great Britain

(GBR)


Crew Stoneley
Tommy Hampson
David Burghley
Godfrey Rampling
3:11.2
Canada

(CAN)


James Ball
Ray Lewis
Phil Edwards
Alex Wilson
3:12.8
Marathon
Juan Carlos Zabala
Argentina
2:31:36
Sam Ferris
Great Britain
2:31:55
Armas Toivonen
Finland
2:32:12
50 kilometres walk
Tommy Green
Great Britain
4:50:10
Jānis Daliņš
Latvia
4:57:20
Ugo Frigerio
Italy
4:59:06
Long jump
Ed Gordon
United States
7.64 m
Lambert Redd
United States
7.60 m
Chuhei Nambu
Japan
7.45 m
Triple jump
Chuhei Nambu
Japan
15.72 m
Erik Svensson
Sweden
15.32 m
Kenkichi Oshima
Japan
15.12 m
High jump
Duncan McNaughton
Canada
1.97 m
Bob Van Osdel
United States
1.97 m
Simeon Toribio
Philippines
1.97 m
Pole vault
Bill Miller
United States
4.315 m
Shuhei Nishida
Japan
4.30 m
George Jefferson
United States
4.20 m
Shot put
Leo Sexton
United States
16.00 m
Harlow Rothert
United States
15.67 m
František Douda
Czechoslovakia
15.61 m
Discus throw
John Anderson
United States
49.49 m
Henri LaBorde
United States
48.47 m
Paul Winter
France
47.85 m
Javelin throw
Matti Järvinen
Finland
72.71 m
Matti Sippala
Finland
69.80 m
Eino Penttilä
Finland
68.70 m
Hammer throw
Pat O'Callaghan
Ireland
53.92 m
Ville Pörhölä
Finland
52.27 m
Peter Zaremba
United States
50.33 m
Decathlon
James Bausch
United States
8462.23
Akilles Järvinen
Finland
8292.48
Wolrad Eberle
Germany
8030.80

460 metres over distance owing to error by lap-counting official.

Event
Gold
Silver
Bronze
100 metres
Stanisława Walasiewicz
Poland
11.9
Hilda Strike
Canada
11.9
Wilhelmina von Bremen
United States
12.0
80 metres hurdles
Babe Didrikson
United States
11.7
Evelyne Hall
United States
11.7
Marjorie Clark
South Africa
11.8
4 × 100 metres relay
United States

(USA)


Mary Carew
Evelyn Furtsch
Annette Rogers
Wilhelmina von Bremen
47.0
Canada

(CAN)


Mary Frizzel
Mildred Fizzell
Lillian Palmer
Hilda Strike
47.0
Great Britain

(GBR)


Nellie Halstead
Eileen Hiscock
Gwendoline Porter
Violet Webb
47.6
High jump
Jean Shiley
United States
1.65 m
Babe Didrikson
United States
1.65 m
Eva Dawes
Canada
1.60 m
Discus throw
Lillian Copeland
United States
40.58 m
Ruth Osburn
United States
40.12 m
Jadwiga Wajs
Poland
38.74 m
Javelin throw
Babe Didrikson
United States
43.68 m
Ellen Braumüller
Germany
43.49 m
Tilly Fleischer
Germany
43.00 m
Record broken
Of the 29 events competed new Olympic records were set in all but three: men's long jump, high jump and hammer throw. World records were set in 10 events.
Men's world records
Women's world records
Event
Date
Round
Name
Nationality
Result
400 metres
5 August
Final
Bill Carr
United States
46.2
800 metres
2 August
Final
Tommy Hampson
Great Britain
1:49.8
4 × 100 metres relay
7 August
Final
Bob Kiesel
Hector Dyer
Emmett Toppino
Frank Wykoff
United States
40.0
4 × 400 metres relay
7 August
Final
Ivan Fuqua
Edgar Ablowich
Karl Warner
Bill Carr
United States
3:08.2
Triple jump
4 August
Final
Chuhei Nambu
Japan
15.72 m
Decathlon
6 August
Final
James Bausch
United States
8462.235
Event
Date
Round
Name
Nationality
Result
100 metres
1 August
Heats
Stanisława Walasiewicz
Poland
11.9
80 metres hurdles
4 August
Final
Babe Didrikson
United States
11.7
Evelyne Hall
United States
4 × 100 metres relay
7 August
Final
Mary Carew
Evelyn Furtsch
Annette Rogers
Wilhelmina von Bremen
United States
47.0
Mary Frizzel
Mildred Fizzell
Lillian Palmer
Hilda Strike
Canada
High jump
7 August
Final
Jean Shiley
United States
1.65 m
Babe Didrikson
United States
Medal table
Rank
Nation
Gold
Silver
Bronze
Total
1
United States

(USA)

16
13
6
35
2
Finland

(FIN)

3
4
4
11
3
Great Britain

(GBR)

2
4
2
8
4
Poland

(POL)

2
0
1
3
5
Ireland

(IRL)

2
0
0
2
6
Canada

(CAN)

1
3
5
9
7
Japan

(JPN)

1
1
2
4
8
Italy

(ITA)

1
0
2
3
9
Argentina

(ARG)

1
0
0
1
10
Germany

(GER)

0
2
3
5
11
Sweden

(SWE)

0
1
0
1
Latvia

(LAT)

0
1
0
1
13
Philippines

(PHI)

0
0
1
1
France

(FRA)

0
0
1
1
Czechoslovakia

(TCH)

0
0
1
1
South Africa

(RSA)

0
0
1
1
Participating Nations

PLACING TABLES

Los Angeles 1932

Overall

Gold

Silver

Bronze

4th

5th

6th

7th

8th

Medals

Points

USA

16

13

6

8

7

8

4

6

35

361

GER

-

2

3

7

3

4

1

1

5

94

FIN

3

4

4

1

1

1

1

-

11

90

GBR

2

4

2

2

4

1

2

-

8

89

JPN

1

1

2

1

5

4

1+1=

3

4

70.5

CAN

1

3

5

1

-

1

-

1

9

68

ITA

1

-

2

-

2

1

1

1

3

34

SWE

-

1

-

2

2

2

1

-

1

33

POL

2

-

1

-

-

1

1+1=

-

3

28.5

IRL

2

-

-

1

-

-

-

1

2

22

RSA

-

-

1

1

2

1

-

-

1

22

ARG

1

-

-

-

1

1

1

-

1

17

FRA

-

-

1

1

-

-

1

1

1

14

NED

-

-

-

2

1

-

-

-

0

14

NZL

-

-

-

2

-

-

1

-

0

12

HUN

-

-

-

-

1

1

-

1

0

8

LAT

-

1

-

-

-

-

-

-

1

7

TCH

-

-

1

-

-

-

-

1

1

7

PHI

-

-

1

-

-

-

-

-

1

6

BRA

-

-

-

-

-

1

-

1

0

4

MEX

-

-

-

-

-

-

2

-

0

4

AUS

-

-

-

-

-

1

-

-

0

3

GRE

-

-

-

-

-

-

1

-

0

2

Totals

29

29

29

29

29

28

18+2=

17

87

1010

Men

Gold

Silver

Bronze

4th

5th

6th

7th

8th

Medals

Points

USA

11

10

5

7

6

5

4

6

26

276

FIN

3

4

4

1

1

1

1

-

11

90

GBR

2

4

1

2

2

1

2

-

7

75

GER

-

1

2

5

2

3

-

-

3

61

JPN

1

1

2

-

4

4

1=

1

4

57.5

CAN

1

1

4

1

-

-

-

1

6

45

ITA

1

-

2

-

2

1

1

1

3

34

SWE

-

1

-

2

2

2

1

-

1

33

IRL

2

-

-

1

-

-

-

1

2

22

ARG

1

-

-

-

1

1

1

-

1

17

FRA

-

-

1

1

-

-

1

1

1

14

NZL

-

-

-

2

-

-

1

-

-

12

RSA

-

-

-

1

1

1

-

-

-

12

POL

1

-

-

-

-

-

1+1=

-

1

11.5

HUN

-

-

-

-

1

1

-

1

-

8

LAT

-

1

-

-

-

-

-

-

1

7

TCH

-

-

1

-

-

-

-

1

1

7

PHI

-

-

1

-

-

-

-

-

1

6

NED

-

-

-

-

1

-

-

-

-

4

BRA

-

-

-

-

-

1

-

1

-

4

AUS

-

-

-

-

-

1

-

-

-

3

GRE

-

-

-

-

-

-

1

-

-

2

MEX

-

-

-

-

-

-

1

-

-

2

Totals

23

23

23

23

23

22

15+2=

14

69

803

Women

Gold

Silver

Bronze

4th

5th

6th

7th

8th

Medals

Points

USA

5

3

1

1

1

3

-

-

9

85

GER

-

1

1

2

1

1

1

1

2

33

CAN

-

2

1

-

-

1

-

-

3

23

POL

1

-

1

-

-

1

-

-

2

17

GBR

-

-

1

-

2

-

-

-

1

14

JPN

-

-

-

1

1

-

1

2

-

13

RSA

-

-

1

-

1

-

-

-

1

10

NED

-

-

-

2

-

-

-

-

-

10

MEX

-

-

-

-

-

-

1

-

-

2

Totals

6

6

6

6

6

6

3

3

18

207
July 31
14h30
Men's 400 m hurdles heat 1
Men's High jump
Men's Shot put
15h00
Men's 100 m heat 1
16h00
Men's 800 m heats
16h30
Men's 100 m heat 2
17h00
Men's 400 m hurdles heat 2
17h30
Men's 10,000 m Final
Women's Javelin throw
August 1st
14h30
Men's 100 m Semifinals
Men's Hammer throw
15h00
Men's 100 m Final
15h30
Men's 400 m hurdles Final
15h45
Women's 100 m heat 1
16h30
Men's 800 m Semifinals
17h00
Women's 100 m Semifinals
17h15
Men's 3,000 m steeplechase heats
August 2
14h30
Men's 110 m hurdles heat 1
Men's Long jump qualification
Men's Long jump
Women's Discus throw
15h00
Men's 200 m heat 1
15h45
Men's 800 m Final
16h00
Women's 100 m Final
16h15
Men's 110 m hurdles Semifinals
16h45
Men's 5,000 m heats
17h30
Men's 200 m heat 2
August 3
13h30
Men's 50 km walk
14h30
Men's 200 m Semifinals
Men's Discus throw
Men's Pole Vault
15h00
Women's 80 m hurdles heats
15h45
Men's 110 m hurdles Final
17h00
Men's 200 m Final
17h15
Men's 1,500 m heats
August 4
14h30
Men's 400 m heat 1
Men's Javelin throw
Men's Triple jump
15h30
Women's 80 m hurdles Semifinals
15h45
Men's 1,500 m Final
16h00
Men's 400 m heat 2
16h30
Women's 80 m hurdles Final
August 5
10h00
Men's Decathlon 100 m
11h00
Men's Decathlon long jump
14h30
Men's 400 m Semifinals
Men's Decathlon shot put
15h15
Men's 5,000 m Final
15h30
Men's Decathlon high jump
16h30
Men's 400 m Final
17h30
Men's Decathlon 400 m
August 6
10h00
Men's Decathlon 110 m hurdles
11h00
Men's Decathlon discus throw
14h30
Men's 4 x 100 m relay heats
Men's Decathlon pole vault
15h15
Women's 4 x 100 m relay heats
16h00
Men's 3,000 m steeplechase
16h30
Men's 4 x 400 m relay heats
Men's Decathlon javelin throw
17h30
Men's Decathlon 1,500 m
August 7
14h30
Men's 4 x 100 m relay Semifinals
Women's High jump
15h00
Women's 4 x 100 m relay Final
15h30
Men's 4 x 100 m relay Final
Men's Marathon